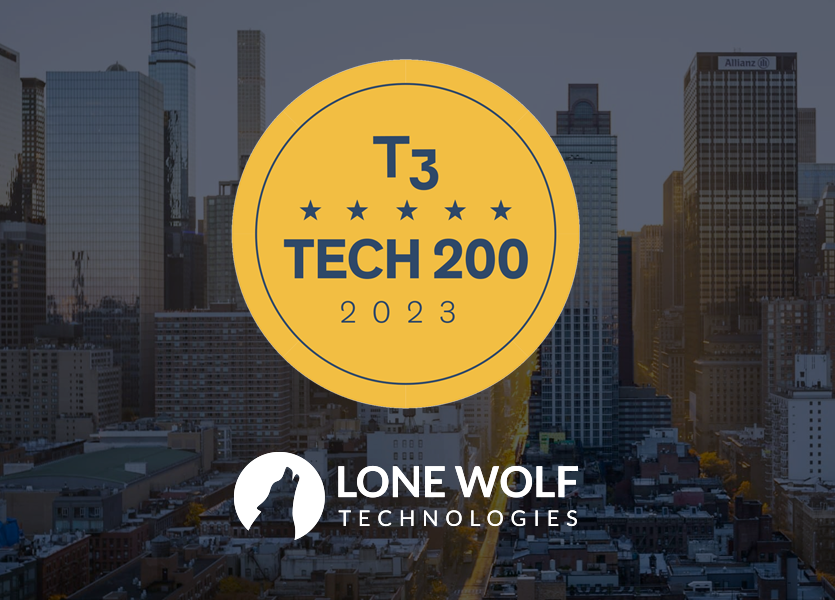 Just this morning, T3 Sixty announced their highly respected Tech 200 list, which examines the thousands of software options available for the real estate industry today and narrows them down to the best of the best.
This list, a component of T3 Sixty's Real Estate Almanac, usually considers both standalone options and those that are part of larger platforms, and aims to inform agents and brokers on the software they can use to make their lives and their work easier.
This year, we're excited to share that Lone Wolf Technologies software made a dozen unique appearances on the list—quite literally.
Making the shortlist of top software
For the first time this year, T3 Sixty limited the list of leading products in each category to a maximum of five. By doing this, with so many options available in the market today, the list narrows things down further for agents and brokers so they can make informed decisions on the technology they use.
It also aimed to highlight software that works together as part of a larger, end-to-end platform—something we here at Lone Wolf have always worked toward. It's no secret that we build software to bring the people and the steps of real estate together, all to make things easier for you, for your clients, and for your business.
"We're honored to be included in the 2023 Tech 200 list from T3 Sixty. This list is a testament to how popular, trusted, and deeply embedded in the industry our solutions are, and we're very thankful for the recognition," said Jimmy Kelly, CEO of Lone Wolf. "It has always been our mission to simplify real estate, and I am so proud of the team here at Lone Wolf that their hard work and dedication is showing in such a powerful way.
"What's more is that despite being listed in so many categories, it doesn't mean 12 point solutions, logins, or processes. It doesn't mean 12 individual, smaller impacts on the real estate industry. These solutions work together to create an even bigger impact that ripples across the industry today—real estate's first end-to-end workflow for agents, brokers, buyers, and sellers."
Lone Wolf software made the top five in 12 different categories:
Digital marketing
Broker Cloud
Video marketing
Broker Cloud
Open house lead capture
Spacio
Automated digital listing advertising
Boost
Collaborative home search
Connect
Listing presentations
Cloud CMA
Accounting system
Back Office
eSignature
Authentisign
Forms solution
Transactions
Transaction management systems
Transactions
Home value reports
Transactions
Recruiting
BrokerMetrics
You can see the full Tech 200 list here. Thank you to T3 Sixty, and see you next year!