PropertyBase
Build the right connections with a real estate CRM.
Real estate is all about connections. Make them—and make them count—with a customer relationship management system designed to work the way you do and impress the people who matter most.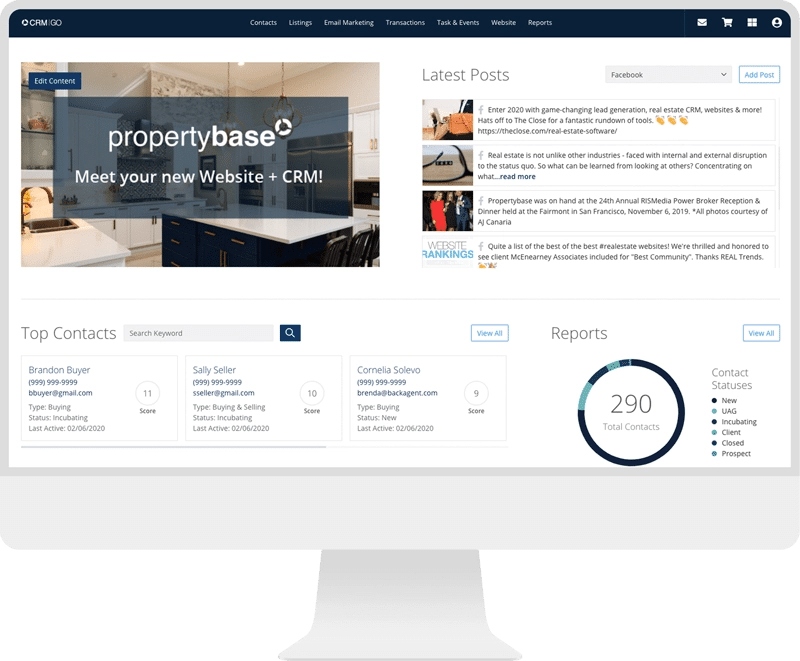 From contact to close and prospect to client
‍
Grow and Nurture your database
No more leads left behind. We centralize your contacts, making it easy to route them to your agents, track activities, and send hyper-targeted nurture campaigns.
‍
Never miss a follow-up
Reach buyers and sellers first and bring in repeat and referral business with beautiful, branded emails that improve engagement, make an impression, and minimize your workload.
‍
Sync listings with your MLS
Our CRM integrates with all major MLS boards, making it easy to create, edit, and syndicate listings for your agents and boost your listings across social networks.
‍
See every aspect of your brokerage
Get actionable insights from campaign performance, website analytics, transactions, and commissions so you can identify ROI trends and contributors.
‍
New!
Connect your Lone Wolf CRM with Lone Wolf Transactions to start a transaction from your CRM and pull your contacts into the transaction while you work.
Technology for the way your brokerage works
With a powerful platform made for growth and quick adoption, plus plenty of connections and customizations available to improve your workflow and incorporate the tools you know and trust—our CRM is ready to make a difference for you, your agents, and your brokerage.
Establish your online presence
With a best-in-class website builder, bring in the new clients and prospects your brokerage needs to grow. Promote your listings online, discover what matters most to your visitors and clients, and more with a website made your way.
Design like a pro with a block-based website builder
Showcase your brand online—and help your agents do it, too
Track visits, favorites, and saved searches with analytics reports
Manage your marketing strategy
Everyone loves a power combination—and that's what your website and CRM are. Manage the new leads coming in from your Lone Wolf website with an intuitive CRM solution that helps you keep in touch.
Create marketing collateral that engages clients and prospects
Launch drip and text campaigns to connect with clients and prospects
Take your CRM on the go with a mobile app, so you can manage contacts, communications, and more wherever you are
Got your CRM? Get more from it, too.
With digital marketing services built exclusively for Lone Wolf website users, you can reach and generate more website traffic, find new buyers and sellers, and see conversions.
‍
We doubled our website traffic in the first four months! We love how easy it is to edit and enhance listings, provide hyper-local content with area profiles, and the support has been super.
Stephanie Hollis
Director of Marketing, BHHS, C. Dan Joyner
‍
Thanks to [Lone Wolf's] Propertybase, we're now able to compete with the big franchises. Our agents are closing more deals and recruiting is much easier. There's nothing it can't do.
Matt Beall
Principal Broker, Hawai'i Life
‍
Our website provides a foundation for thoughtful content that will help buyers and sellers understand the complex real estate process as well as the neighborhood-focused inside information that Red Oak is known for.
Vanessa Bergmark
Owner and CEO, Red Oak Realty