BrokerMetrics
Real estate's best analytics at your command
Tap into timely, accurate real estate data to build on your business's success and outpace the competition, from recruiting and coaching to marketing and beyond.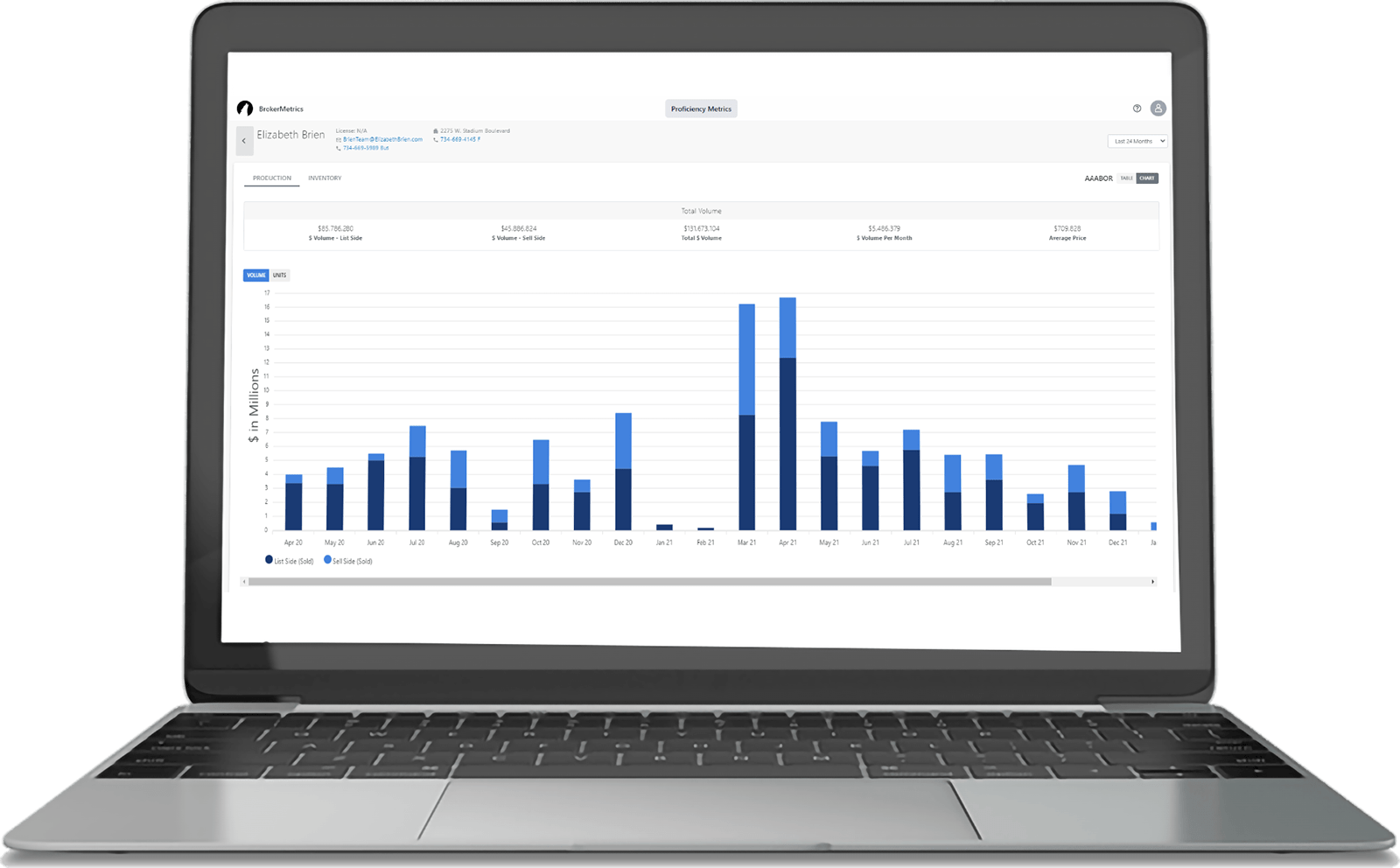 Build your business with data analytics
Real estate's leading data analytics tool, BrokerMetrics, delivers the critical analytics a broker needs to grow a successful, profitable business.
Recruit + coach agents with Proficiency Metrics
Assess the competition with Market Share
Plan to grow your business with Market Growth
Educate agents and clients with Market Dynamics
Price with confidence with Pricing Analysis
Aid productivity with Office Analysis and Agent Analysis
Real estate–specific intel? We've got you covered.
Whether you're looking to expand your roster, mentor the agents you've got, determine this quarter's pricing standards, or set realistic long-term goals, BrokerMetrics has modules to help you tap into every facet of the real estate industry.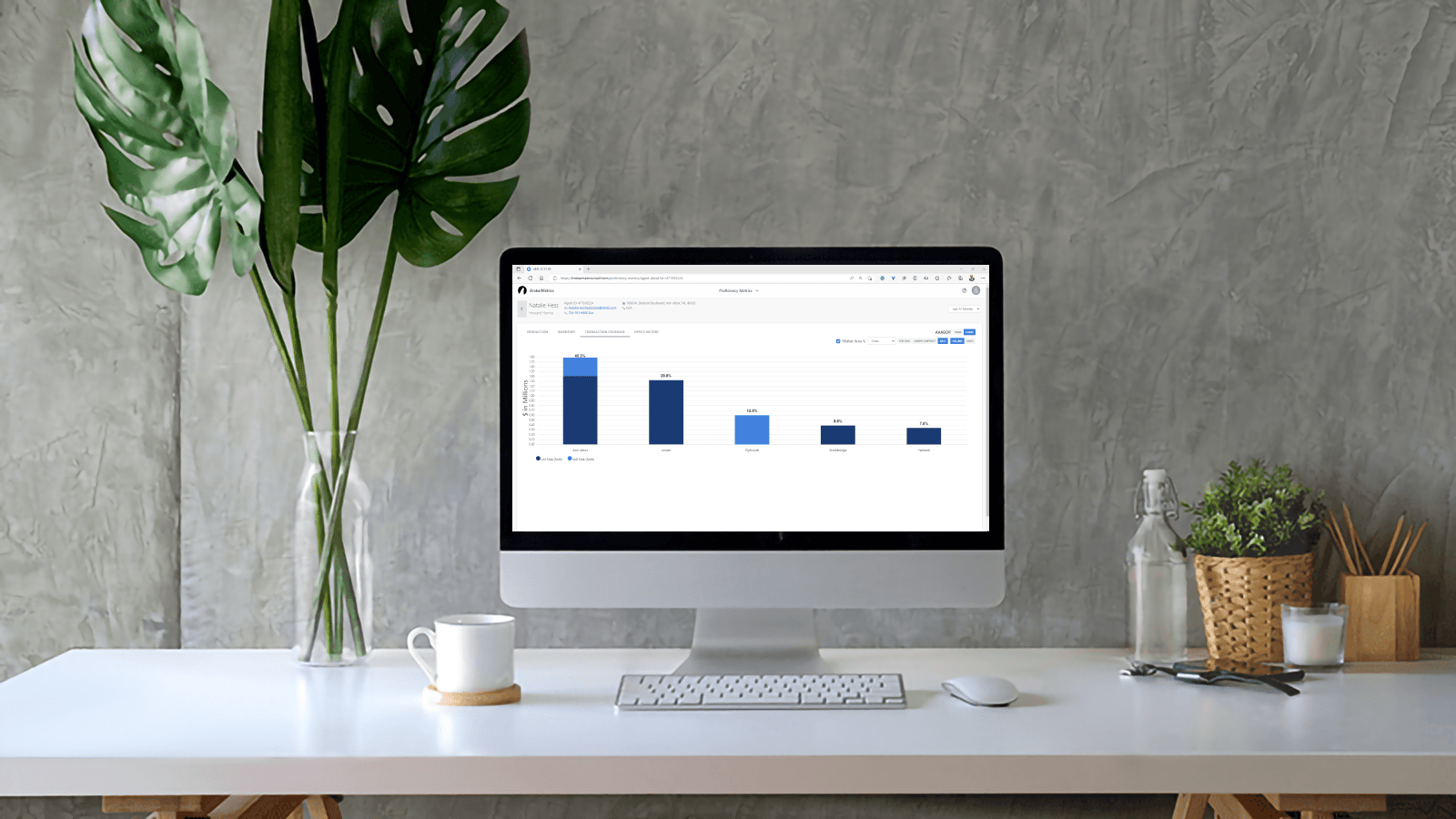 Grow bigger and better with Market Share
Transform your brokerage's raw data into actionable insights and forward-facing growth with Market Share—a top broker tool, now available online.
See the bigger picture of where you and your agents stand in the market, including your improvement areas and strongest differentiators, so you can stay informed about reaching those future goals.
‍
Recruit and coach your agents
Proficiency Metrics helps you identify, recruit, and maintain agents based on real performance and inventory. Track production by dollar volume, number of transactions, days on market, and more—whether they're on your roster or your hiring list—anywhere you have an internet connection.
‍
Track your competition with competitive analysis
Market Share unlocks market insights, sorted by office or groups of offices over your time period of choice. This helps you evaluate your own office(s)'s collective market share and understand how you stack up in terms of market areas, dollar volume, transaction numbers, and more.
‍
Know where to grow next
Market Growth shows you growth rates for the markets you want to monitor, and can help you determine the best spot for your next office. Plus, track market and office growth over time to know what you can expect in the long run.
‍
Equip agents to educate clients
Market Dynamics is a visual tool that showcases the economic forces impacting your market. Give agents access to pricing data, supply and demand information, listing and sales activity, and more—so they can help their clients make the best possible informed decisions.
‍
Be confident you're setting the right price
Pricing Analysis tracks how many properties have sold in a given time frame, as well as which price points influenced sale timing. This means agents can help clients determine the right price for their property—and avoid either over- or underpricing.
Where our data comes from
We know data is best right from the source. Every piece of information used in BrokerMetrics comes directly from the MLS to your solutions, and is refreshed daily.
Data share with
MLSs and associations
U.S. data footprint
of metropolitan areas
Partnered with
large franchises